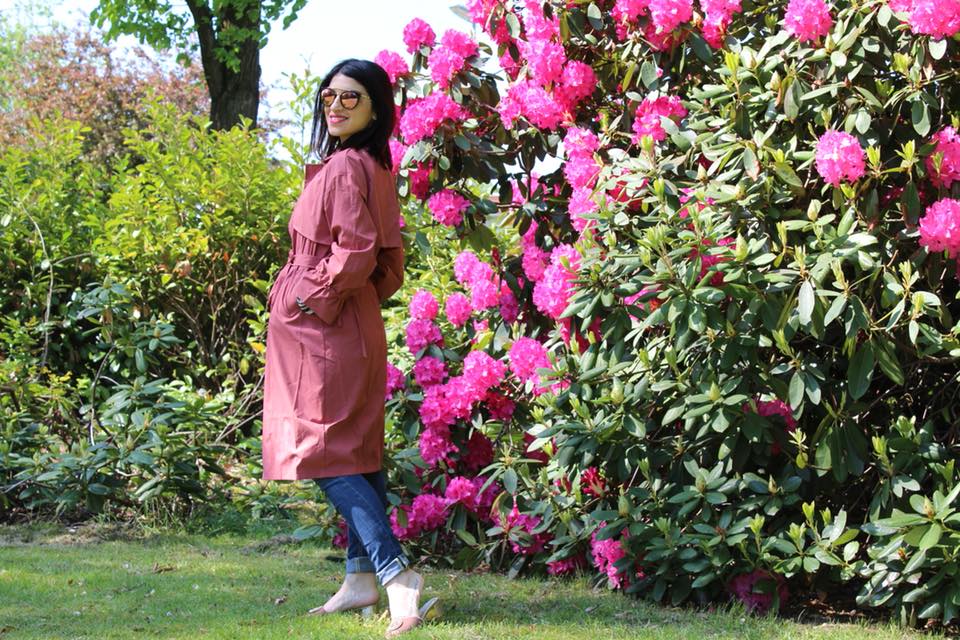 Finally also in the Nl spring is arrived! I could cry for the happiness! By the way specially in this season, there are certain items every woman should have in her closet, and the trench coat is one of them for sure. Originally made famous by the glamorous Jackie O, this lightweight coat is the key piece you need during a time of transitional weather, possible downpours, and damp, chilly nights.
The most popular version is the beige one, but this time I choose a pink one, 'cause in my opinion is time to pass over the basic and go with a smile in a colorful closet!
But why is so important for each woman to buy a trench coat?
Here  are three reasons why you need a trench coat.
1. Firs of all, wherever color you will choose the trench coat i t's a classic and definitely is a  timeless pieces.
2.It's the perfect piece for every occasion.Is elegant, femminine and so stylish that we can wear it from the office to the romantic dinner!
3. The last but not the least because the Iconic Audrey Hepburn in , Breakfast At Tiffany's was wearing one.
The final scenes of this classic film see lead characters Holly Golightly and Paul Varjak hurtling across New York city in the back of a yellow cab. Holly is unravelling, Paul declares his love, they fight, they lose the cat and then they kiss in the rain. In trench coats. It's so iconic it's almost cliche.
So For those and more reasons this is my trench coat look!
I decided to combine with a very special blouse by FASHION42DAY, Nadia, the owner is so sweet and you can really see from the quality of her items how much heart she put in her job.
I fell in love with the Zebra Blouse  totally made fairtrade and consists of Chiffon, so beautiful.
And another little must have are the shoes, from Prosperine, I think are the most nice shoes I got this spring, and are so comfortable!
My Trench look is done, and are too you ready for the trench spring?
I worn:
Lapel Double Breasted Pocket Belt Plain Trench Coat Fashionmia
Zebra Blouse FASHION42DAY
Shoes Prosperine
Jeans Dondup
Lascia un commento
commenti