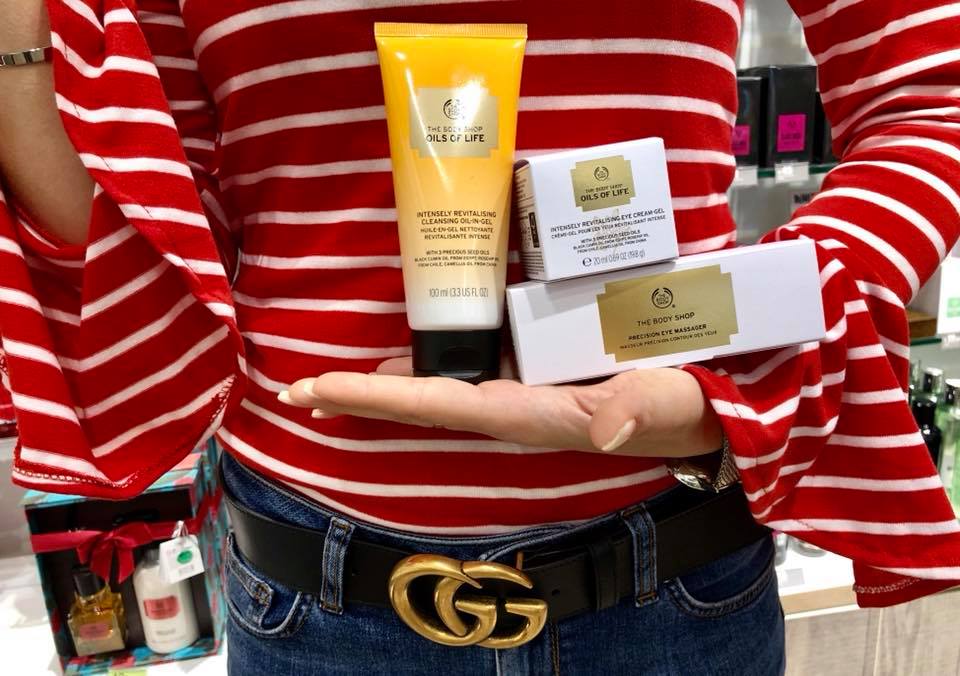 Dear Girls, today this post is specially for my dutchie followers :)!Some time ago I went with my friend Ricki, to visit The Body Shop in Eindhoven (Heuvelgalerie)to discover all the new beauty products they had!
One of the beauty advisor, Lieke, welcome us in very kind way and she showed us everything new with a lot of explanations on the products! I think was one of the best customer service I ever had!
So with Lieke we started our journey in to the new  products and the first new in were the Body yogurt.
Actually I  already new about these wonders because I already tried ( here my ig post)
I love it because are  fast-absorbing moisturisers with a lightweight, gel-cream texture that's suitable for all skin types, including dry skin. I just apply straight onto damp skin for 48hr moisture and you're just #15secondstoglowingskin, healthy-looking. Made with Community Trade almond milk from Spain, pick from seven nature-inspired flavours including Mango, Strawberry and Coconut.
The Community Trade is an amazing project who The Body Shop started in 1987. The company  source some of the finest raw ingredients and hand-crafted accessories from the four corners of the globe. They  harness the skills of small-scale farmers, traditional artisans and rural – cooperatives who are experts in their field.And they  add their  expertise to create effective products that are made with love and care.
The Body  Shop has  26 Community Trade suppliers in 21 countries around the world, benefiting 25,000 people.
From Mexico with love, we discovered another amazing product:the Rose Dewy Glow Face Mist. Made with aloe vera from Mexico this face mist has  reflective particles, this mist gives your skin a dewy, illuminated glow for an instant confidence boost. With a blend of raspberry essence, cherry water from France and Community Trade British rose essence. Leaves skin feeling hydrated and instantly refreshed after a spritz.Definitely my favorite one!
We also spoked about the skin care discovering the Drops of Youth and Oils of Life collection.
The Drops of Youth collection gives to our  skin a helping hand before the signs of ageing become clearly visible.
Lieke did us a test to check the level of or skin's hydration, before my skin level was very low 21% after she has applied these products on my skin I was VERY VERY shocked! My level was 69%!
So I decided to try the Eye Mask  with cucumber extract from Community Trade organic babassu oil from Brazil, and plant stem cells, that  can be applied to instantly give tired eyes a powernap I'm already so happy with the results!This refreshing, non-sticky formula helps address the first signs of ageing to help skin bounce back to a more youthful appearance.
From the Oils Of Life I decided to try two product!
The Revitalising Cleansing Oil-In-Gel and  Eye Cream Gel.
I went for this Eye Cream Gel as well, because this one is also a bit sparkling and I thought was very nice  to use before doing my make up for a nice finish around my eyes.
The ultra-light and smoothing eye cream-gel feels fresh upon application and melts onto skin. Infused with three precious seed oilsorganic olive oil from my beloved Italy, eye contours are visibly revitalised and look more radiant. Signs of ageing appear reduced, wrinkles appear smoothed, dark circles look visibly faded and bags appear depuffed.
The Revitalising Cleansing gently cleanse your skin with the nourishing , infused with a blend of 3 precious seed oils. Lieke suggested to do it 2 times per week and soon became one of my beauty must have!
I really want to thank The body shop and Lieke for this amazing  beauty morning!
You can discover the whole collection on the website.
#thebodyshop en #thebodyshopnl of #thebodyshopbe
@thebodyshop
Lascia un commento
commenti