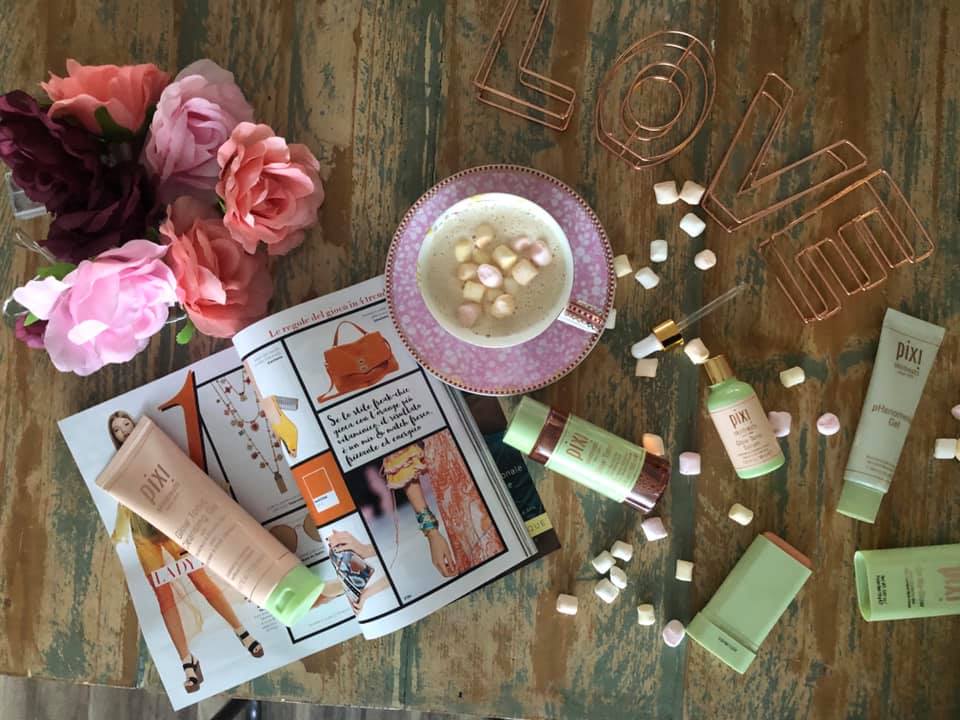 Pixi is one of my favorite skin brand ( as you already know if you follow me on my ig).Today I want to share with you my #pixiglowstory! In the last days I tried and used everyday the Glow essentials and my skin is really gorgeous  right now! For this reason I decided to share with you 5 must have products that I'll never take off from my beauty routine!
Let's start!
-Cleansing Glow Tonic Gel 
This Pixi Glow Tonic Moisturizing Cleansing Gel removes impurities without drying out the skin. With Moisclean and a unique blend of glycolic acid, horse chestnut, aloe vera and ginseng, the complexion is refined and luminous and the result is a smooth and full of energy skin.
-Glow Tonic 
This  product claims to gently accelerate cell renewal to reveal a brighter, glowing complexion.
It contains ingredients such as aloe vera and ginseng to hydrate and energise the skin. The product comes in a clear bottle with a pistachio green screw on cap and has a fresh rose floral scent with sharp citrus notes.
I love it because is suitable for all skin types and is great for those who love light floral rose scents. Non-irritating and high performance, we think this acid toner is definitely worth the money!
-Glow Tonic Serum 
This serum contains both moisturising and exfoliating properties. Glycolic Acid works to gently resurface the skin, helping to smooth uneven texture and reduce the appearance of discolouration. The lightweight serum helps to hydrate and nourish the skin, leaving a soft and radiant complexion.
-Phenomenal Gel
This  gel is  a pH neutralizing moisturizer that helps to balance the skin and provide soothing hydration. The moisturizing gel calms the skin restoring its delicate balance. This helps prevent both dryness and excessive oil production, leaving the skin healthy and radiant.
Is also  rich in nutrients to stabilize the skin and is infused with soothing ingredients. Horse Chestnut works to moisturize and smooth while Aloe Vera soothes. Citric acid helps to lighten the appearance of discoloration. The natural pH gel helps to clarify and balance while providing essential hydration.
-On in Glow
Best product ever!
This multi-purpose travel moisturizing stick from Pixi has been developed for the face, lips, body and hair. Developed in a solid substance and obtained from a unique blend of vitamin D, soft acids and vitamins to protect, treat and increase the moisture content immediately and for a long time. Super easy to use, you can just rotate the base to push the product. Apply gently to the skin. Dab the excess moisturizer into the skin with your fingertips. Close the lid after each use.
Discover all the products on the website!