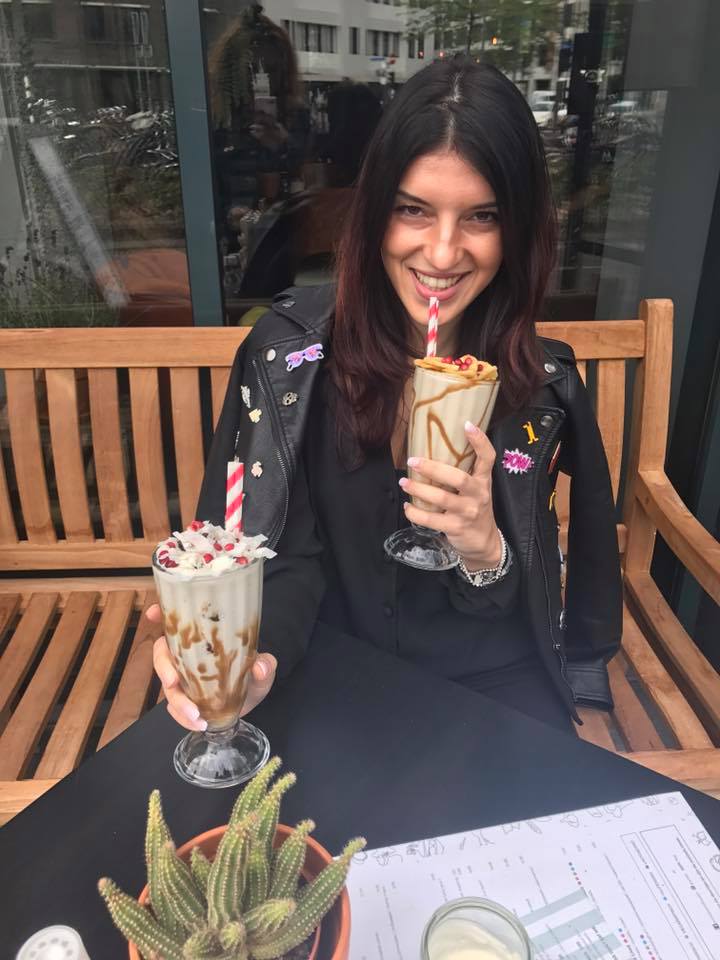 Back from my holidays I really need to take back my energy with an amazing breakfast, that's why I went to SNCBR a lovely  place in Eindhoven, from breakfast to lunch.
The creative brain behind SNCKBR gives the traditional cafeteria a conscious and biological recipe. Sins are being sanctified in a snack bar where nutritional value and ingredients are the guide, but taste determinative. Pure and biological ingredients go over to the dark side for comfort food that is terribly tasty, moderate in fat, free from sophisticated sugars and, where possible, gluten-free, carbohydrate, vegetarian or vegan.
At SNCKBR, the health guru or part time carefree urbanist cares with care. Who uses a SNCKBR shoarma or zucchini spaghetti during the day, shifts in the evening for a drink of vegetable chips at the bar. The same seamless transition is reflected in the SNCKBR decor developed by Too Much Agencies. The interior seems nostalgic to the glory times of the traditional snack bar with warm seventies colors, rounded shapes and green marble tables. Coffee and cocktails are comfortably matched and the brasserie runs smoothly in a cafeteria with automation for quick snacks. Like the all day menu, the interior is as durable as possible thanks to the use of natural materials in construction and decoration.
Following the success of the first two branches, SNCKBR opens today a first location here in  Eindhoven. Local entrepreneurs Gert-Jan van der Zee and Thijs Marques picked up the healthy food café in collaboration with SNCKBR-FNDRS Allon Kijl, Melle Schellekens and Marco van Veldhooven from Amsterdam to the south of the Netherlands. The light city becomes the bright city.
We had an amazing breakfast with AÇAI BOWL  with Amandelmilk,  Coconut , Banana and Blueberry, ( so delicious) and a gorgeous DR.BROWNIE  with chocolate !
Of course we tried also the shakes:THE NUTTY BANOFFEE( a perfect combo of  peanut butter | Banana | Coconut lagoon | Coconut blend caramel and crispy Banana chips) and  THE SUGADADDY  with  brownie  vanille ice cream cacao  and cocnut!
Enojy your breakfast, your lunch and even your snack moment at SNCBR more info on the website.
Address
Van Woustraat 34
1073 LM Amsterdam
Kinkerstraat 106-108
1053 EC AMSTERDAM
Willemstraat 1D
5611 HA EINDHOVEN