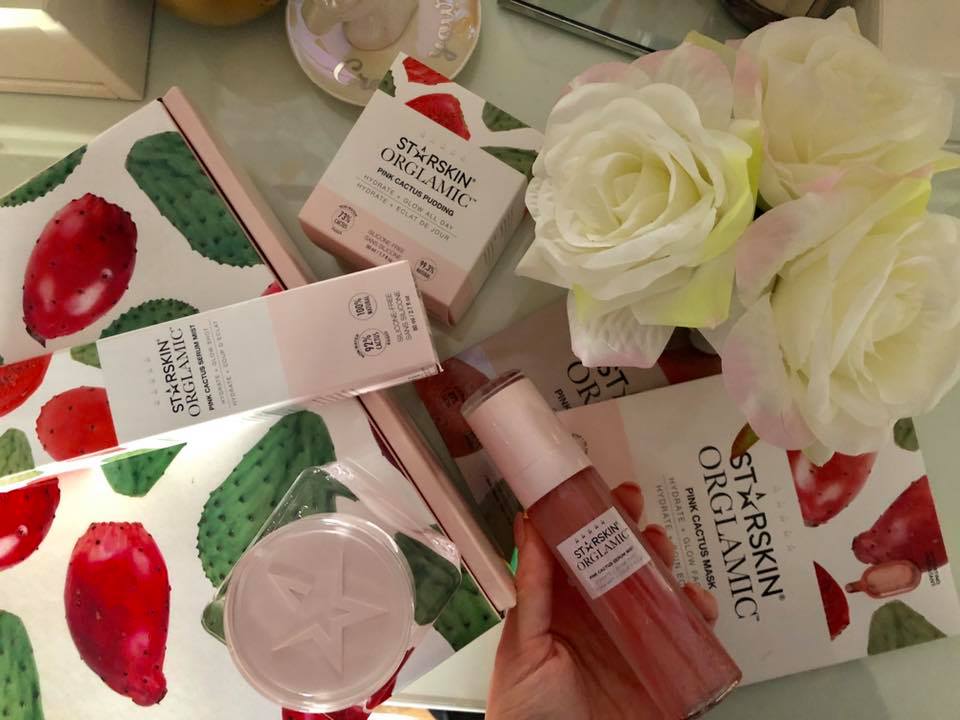 Hi Girls, tell me how much do you love Starskin? A lot I know! And now our favourite brand  presents a unique in the world of natural beauty products: ORGLAMIC ™. The first collection combining highly concentrated, organic and high-performance skin superfoods with the luxurious and glamourous experience we know from prestigious beauty brands.
I already tried and I was so happy about the results that today I want to share with you each product.
Orglamic Pink Cactus Serum Mist
A new-generation two-phase serum lacks enrichment with the precious trio of prickly pear, baobab and Japanese camellia seed oil blended with ultra-hydrating liquid cactus concentrate. This multitasking glow-booster prept, tonet and soaked the skin with superfoods that fight drought and give you a glow boost.Combining serum, toner and prep in one bottle, Orglamic Pink Cactus Serum Mist contains an ultra-moisturising blend of liquid cactus concentrate. Enriched with a superfood trio of prickly pear extract, baobab and camellia seed oil, the spray formula combats dryness and provides intense radiance.
STARSKIN ORGLAMIC PINK CACTUS PUDDING
Delicious, silky soft pudding concentrate enriched with intensely nourishing prickly pear seed oil, thirst-quenching cacti extracts and smoothing hyaluronic acid for an addictive, long-lasting glow.Create the perfect canvas for makeup application with Orglamic Pink Cactus Pudding.
ORGLAMIC™ PINK CACTUS MASK
A revolutionary 2-step oil sheet mask that intensely hydrates the skin and soaks it with super antioxidants. For a well-hydrated and visibly firmer skin and spectacular skin-improving results. A dream for dry and dehydrated skin!
ORGLAMIC PINK CACTUS GLASS MASK
An extraordinary, crystal clear sheet mask that owes its gel-like texture to a blend of pure fig cacti seed oil extract and carob. Drenched in an ultra-cooling serum composed of 99.9% natural ingredients, this mask provides an intensely hydrating and Korean shiny skin that you have always dreamed of – in just 10 minutes.
This collection is 99% natural and formulated without silicone and harsh chemicals and preservatives.
You can discover more on the web site.
Lascia un commento
commenti