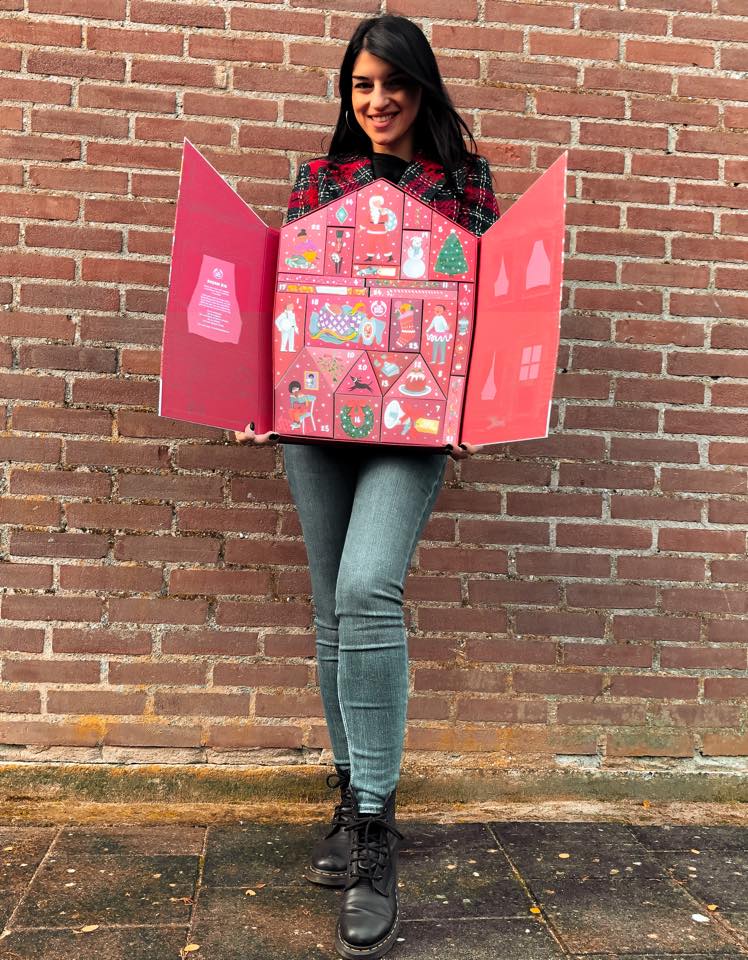 Dear girls, today I'm so happy! I'm gonna show you something really GORGEOUS!
But first let me tell you about something you already know: my  passion for  The Body Shop Products.
I really love their products and today I want to show you a fabulous Deluxe Advent calendar. The most beautiful I've ever opened. I know  Christmas  is still a bit far but I really feel to  recommend it a lot because you will find many many   products perfect for your   beauty routine!
The Body Shop's Advent Calendar are available in 3 different version:
Dream Big This Christmas Beauty Advent Calendar (values 98 euro you will get for only 50 euro)
Dream Big This Christmas Ultimate Advent Calendar(values 277 euro you will get for only 120 euro)
And the one I got, which is "the one in the middle "we can say!
Dream Big This Christmas Deluxe Advent Calendar
The values is 148,50 euro but you can get for only 85 euro and I loved each product, believe me!
Behind every part of this calendar you will find, next to your daily dose of beauty, also interesting facts about 25 inspiring women who dreamed of and acted on a better world. On Christmas Day you can transform the empty boxes into a magical Christmas village. And the products? Stroll through the streets of the festive village and discover a beauty surprise every day, such as skincare bestsellers, scented bath and body products, makeup and more. Spoiler alert! The full list can be found below.
Inside you will find:
Rose Dewy Face Mist 60ml
Mango Fragranced Bath Bomb 28g
Special edition Juicy Pear Shower Gel 60ml
Layers of Fun Nail File
Camomile Gentle Eye Make-up Remover 60ml
Strawberry Clearly Glossing Shampoo 250ml
Fuji Green Tea ™ Body Butter 50ml
British Rose Shower Gel 60ml
Special edition Warm Vanilla Hand Cream 30ml
Red Ultra-Fine Bath Lily
Aloe Calm Sheet Mask 18ml
Coconut Exfoliating Cream Body Scrub 50ml
Green Tea Fragranced Bath Bomb 28g
Vanilla Delight Fragranced Bath Bomb 28g
Himalayan Charcoal Purifying Facial Soap 100g
British Rose Instant Glow Body Butter 50ml
Vitamin C Glow Sheet Mask 18ml
Strawberry Clearly Glossing Conditioner 250ml
White Musk Body Lotion 60ml
Strawberry Lip Butter 10ml
Pink Grapefruit Hand Cream 30ml
Aloe Soothing Day Cream 50ml
Beauty Blender Sponge
Shine Lip Liquid in Cherry Gum 7ml
Shea Body Butter 200ml
This is it: the luxury advent calendar of your dreams. Because at The Body Shop this year's holidays are all about (beauty) dreams coming true.