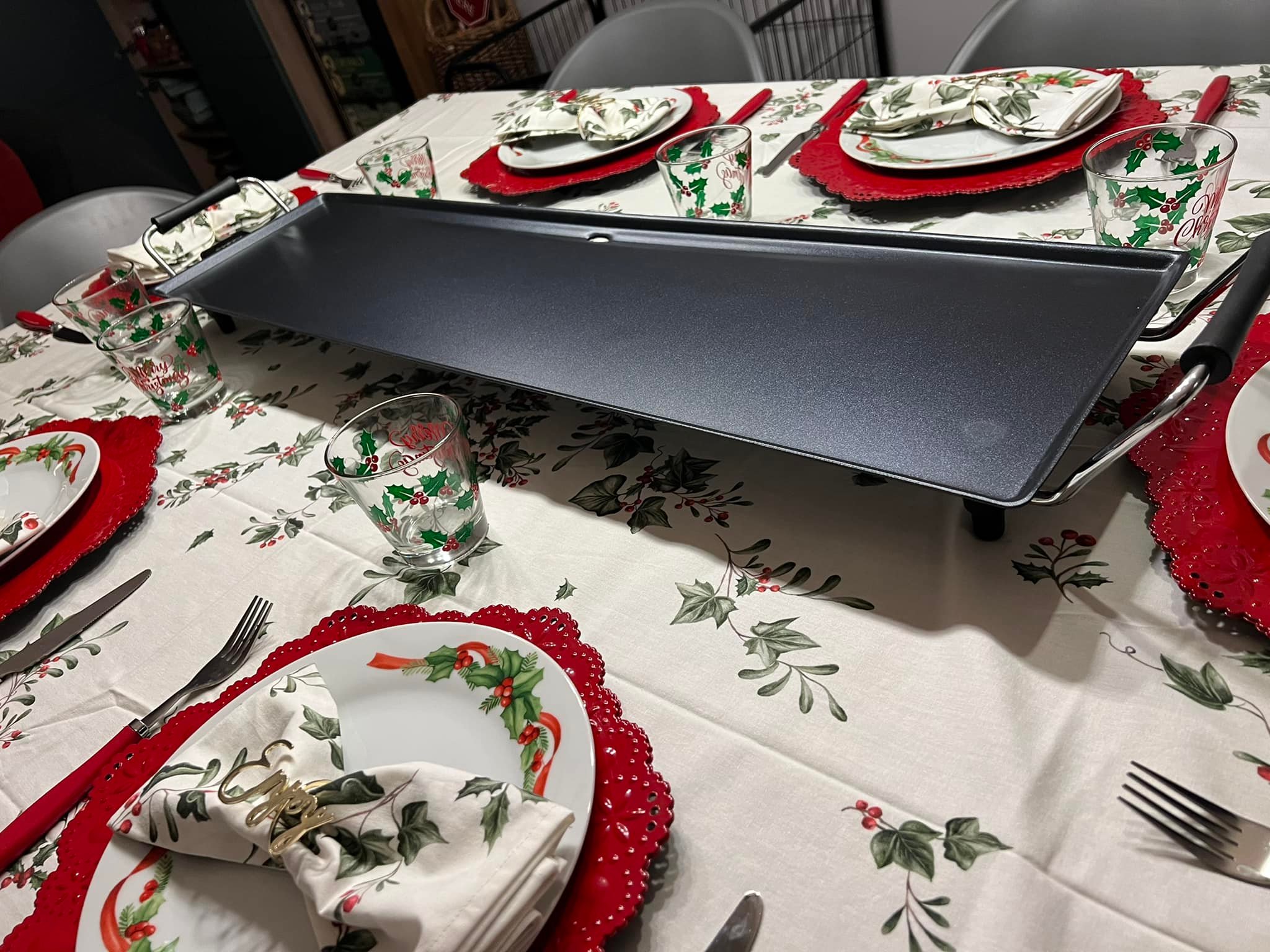 As every year I'm very glad to celebrate my Xmas holidays with this beautiful and magic Holidays Blogbox I received from RVG PR.I opened with so much enthusiasm and I can't wait to share each beautiful product with you! Are you ready? Let's start!
Enjoy the atmosphere
Never before have I seen such a long baking tray as this one from Nedis! With a length of no less than 90cm, we can go all out ;-).
The Nedis® teppanyaki griddle is equipped with an adjustable thermostat for the perfect preparation of all kinds of vegetables, meat and fish. The baking tray is also equipped with an extendable grease drain. Due to the removable power cable and a non-stick coating makes tidying up and cleaning in a done in a jiffy.
1-bottle Champ
Every party becomes even more fun with an (alcohol-free) bubble. For that nice and cool
I always use a cooler to keep it. This one is super cool! The 1-bottle Champ is a unique and playful wine cooler in the shape of a
champagne cork that is not only stylish but also extremely practical. The 1- bottle Champ is available in three colors. The top is made of cork. With the weather-resistant materials, you can even use the wine cooler outside all year round terrace or on your balcony. But inside your kitchen or dining room the wine cooler is also very good! I got this beautiful black one:)
Soda Stream Art
In this beautiful package, I also found this beautiful SodaStream. Besides that this one is great to use during the holidays, this is also a tip for your wish list 😉
This "ART" version of SodaStream is not only special because of the unique lever and the timeless retro design, but also the innovative
patented Cylinder Quick Connect (CQC) technology. This makes the carbon dioxide cylinder connected to the sparkling water device with just one click. Such a great design is perfect for each kitchen and very helpful for the world: we can get delicious sparkling drinks but also save you a lot of plastic waste. In my opinion one of the best gifts for the holidays for those who appreciate design and sustainability.Love it!
HG Cleaning Products
During the holidays we cook and eat a lot! But in the end we have so much to clean! Fortunately, there is my help!The oven cleaner quickly and specifically eliminates baked-on food and grease. HG grease away easily and safely removes cooking oils as well as animal and vegetable products greases on stainless steel, galvanized, enamelled and aluminum
surfaces.
HG against unpleasant odors in textiles removes odors from clothing and material of textiles caused by, among other things, smoke or food smells. For example, clothing that worn at a party, in a restaurant or for gourmet meals stinks, but is
not yet dirty and therefore does not have to go straight to the dry cleaner or in the wash. With this product, HG has the solution for this. Good to know. This product is safe for all textiles, uses a natural purification process based on plant extracts and works without propellant.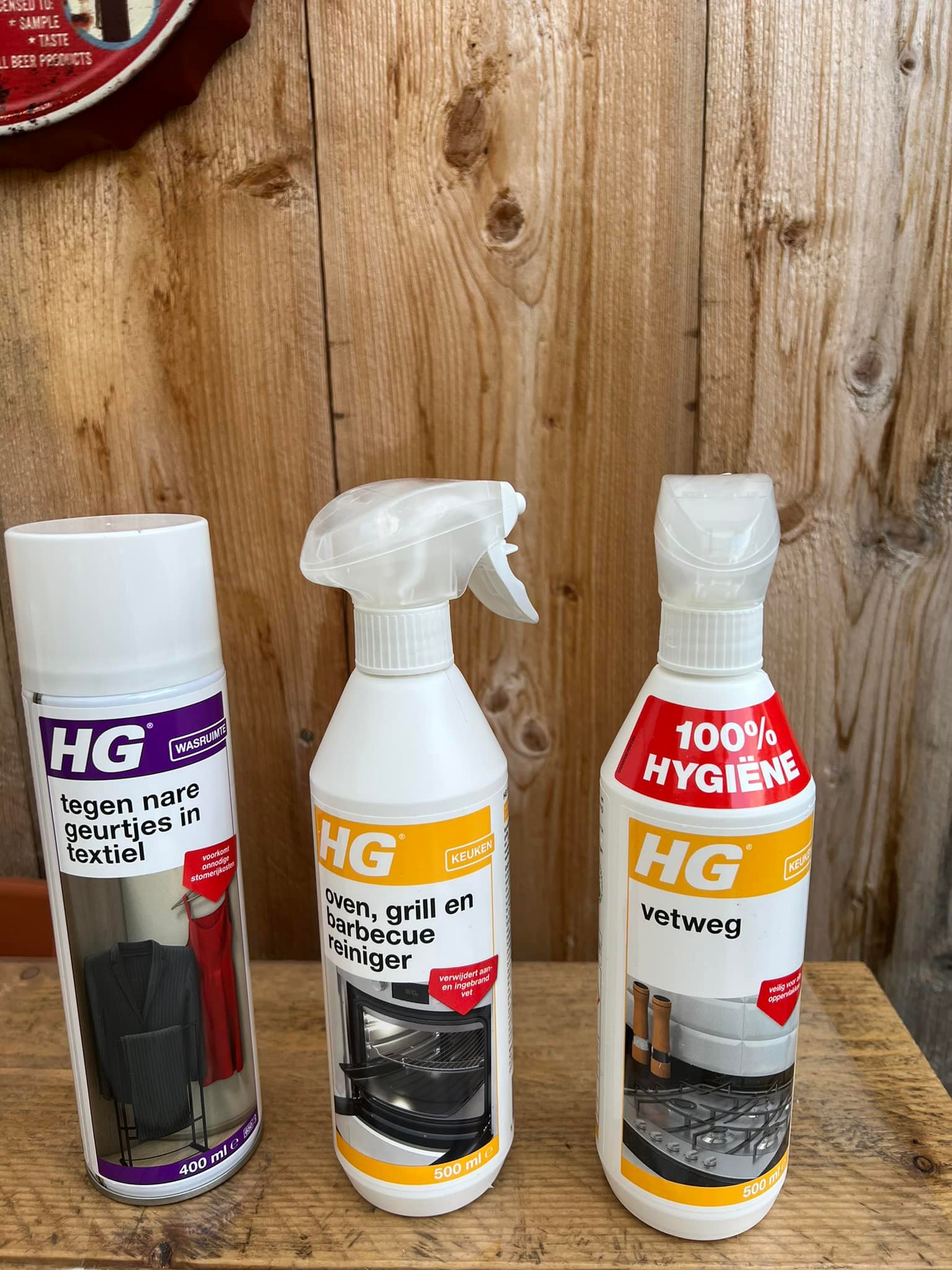 Pure By me
This beautiful salt stone lamp is in this box. What I didn't know yet was that a salt lamp is also called a purifying lamp. Salt stone has
a cleaning effect and purifies the air from dust and allergens, among other things.
This salt stone lamp from Pure By Me (weighs about 2 to 3 kg) not only gives a beautiful atmosphere in the interior but also has many health benefits.
Now I'm 100% ready to celebrate my holidyas! Thank you RVG! And Merry xmas to everyone!
Lascia un commento
commenti